Our Team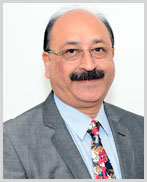 Currently Adjunct Professor, School of Real Estate RICS School of Built Environment, Amity University, Noida.

Member Royal Institute of Chartered Surveyors UK, National Association of Realtors-India, Association of Property Professionals Del NCR, Association of Certified Realtors of India (Regd.)

Satish Bajaj is a highly experienced Real Estate Marketing Professional, Founder and Principal Consultant at GLOBAL INSPIRATIONS, a Boutique Real Estate Advisory Company.

Best known as a multi-skilled marketing professional in the real estate and allied sectors, adept in utilizing strategic insight and marketing acumen, translating into bottom line results. Mr Satish Bajaj has a proven track record in managing marketing functions in large organizations like Polynova Ltd. (Lupin Group Co.) & Unitech Ltd. contributing to long term organizational growth which he has been able to utilize positively to enhance his market knowledge, especially in the Real Estate of Northern India.

A Seasoned Sales and Marketing Professional with over 30 years of hard core selling, service delivery & customer experience and has managed various leadership roles in Sales, Sales management & Product Management in the initial years of professional career.

His key strength lies in Operations Management, establishing a discipline of Governance and using people management to achieve business objectives through his excellent interpersonal, communication, team building & management skills.

A firm believer in creating lasting relationships, he has achieved huge success and an excellent track record. Focus in requirement of the client being one of the main objectives, he has been successful in guiding his clients in maximizing their reach and profits too.

Satish Bajaj is an Alumni of LaMartiniere College Lucknow, Kumaon University Nainital, Institute of Marketing Management Delhi & Faculty of Management Studies, Delhi.