Advisory Board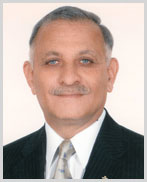 Air Marshal Ajit Bhavnani (Retd)
PVSM, AVSM, VM (Gallantry)
Date of Birth: 05 October 1946
La Martiniere College, Lucknow
MSc in Defence Studies, Madras University
Graduate & Instructor at the Defence Services Staff College, Wellington
Air Marshal (Retd) Ajit Bhavnani retired from the Indian Air Force in October 2006 as Vice Chief of Air Staff after 40 years of distinguished service to the nation. He participated in active operational missions during the 1971 Indo-Pak war and was awarded the Vayu Sena Gallantry medal for his outstanding contribution. His key career appointments in the IAF include:
Combat flying instructor in the Middle East
Leader of IAF team selected to induct the newly acquired Mirage 2000 aircraft from France
Commandant of IAF's Top Gun School: TACDE
Defence Attache at Indian Embassy in Sweden & Scandinavian countries
Commander of IAF's premier air base, Gwalior
Commander-in-Chief of the nation's Strategic (nuclear) Forces Command
Vice Chief of the IAF
Post retirement, he was appointed as member of the GoI's DRDO Review Committee and member of the Civil Aviation Committee for modernization of Airports & Navigational Systems. In Nov 2008, he was selected as MD & CEO of a new TATA company, NOVA Integrated Systems, which engaged in manufacture of aerospace and defence systems. After five years in this appointment, he now continues with TATAs as Senior Advisor in strategies for Aerospace and Defence. He is also Director on the Board of SAMTEL Avionics.

Currently, Air Marshal Ajit Bhavnani is a member of:
CII's Zonal Committee on Aerospace and Defence.
Aspen Ananta Institute of ndia
Global Zero movement on Nuclear Disarmament
Member of Strategic Chain Dialogue with Brookings Institute.