Advisory Board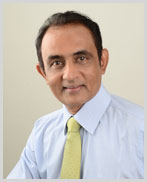 Mr. Pingali Chandrashekhar
Ex Banker
Singaporean; +6597287395
With over 30 years of professional experience and extensive worldwide exposure, Pingali Chandrasekhar(Chandru) has built expertise in allfacets of human capitalmanagement aligned to business strategy.He held several senior HR and business transformation roles, has proven to be a peoplefocussed director, a business leaderand a turnaround expert. He worked in several industries like Banking, IT/ITES, pharmaceuticals, chemical and textiles. He has been to the Leadership development programmes to Insead, London Business School and Oxford Business School. He is a Board Member and a Mentor in driving leadership change, business transformation, people productivity & performance. He started ICube, a Singapore company focussed on technology enabled human capital solutions to enable clients become "Future Ready" on people management strategy to drive business growth. The purpose of ICube is to simplify, demystify Human Capital Management (HCM) to enhance capability &performance, backed by diagnostics, innovative solutions and predictive indices. Its' first innovation, ICE Cube, is a web-enabled comprehensive diagnostic tool that measures human capital management practices of an organisation and helps sketch a strategic HCM roadmap. Based on feedback from 200+ companies, and benchmarking studies with 1000+ organisations in 10 countries, this is now being considered as the first of its kind, globally. An avid reader and a writer, his articles have been published in leading industry journals, national dailies and other publications. He is a sought after keynote speaker in numerous high profileevents in Asia and Africa.He has received several awards in his career, including Best HR Professional of the Year,Outstanding HR professional of the yearand a regional HR Leadership award. He likes jogging, reading and spending time with family.
Mr. Sanjay Wadhwa
Architect
sanjay@swbiarchitects.com
T +91 124 4699999
M +91 9810069223
Designation: Principal Architect, SWBI Architects with partner / wife Beena Idnani Wadhwa
Qualifications: Bachelor of Architecture from School of Planning & Architecture New Delhi, 1984
Registration: Council of Architecture New Delhi.
Professional Affiliations: Fellow, The Indian Institute of Architects – IIA Member, India Green Building Council - IGBC
Sanjay Wadhwa, Principal and Design Head of SWBI is engaged in Architectural Practice since 1987. He has nearly 30 years' experience in planning and execution various types of projects that span across all market segments . SWBI under his leadership specializes in Workplace Design in greenfield IT Campus Projects as well as their Interiors.

The Team is well acquainted with the Best Industry Practices internationally in this domain.

Besides Office Buildings, SWBI has successfully completed a large number of Hospitality, Institutional & Residential projects.

Sustainability & Green Architecture has always been the backbone of all Designs created by SWBI. Sanjay & Beena's very first project in 1987 was an Award Winning Office Building for MP Urja Vikas Nigam at Bhopal, which was a curtain raiser in passive solar architecture.

Under the guidance of Beena Wadhwa, who is a LEED AP, most of Firm's work is towards achieving highest level of sustainability revolving around reduced carbon footprint as well as employees wellbeing.

Sanjay has handled projects overseas also including designing India Pavilion at Expo-2000, Germany.

He is passionate about creating Designs which are "Wellbeing @ Workplace" centric, and is a regular speaker at various Industry forums.

Awards & accolades include "Pinnacle Architect of the Year Award -2007".