Advisory Board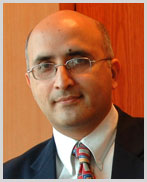 Dr. Deepak Bajaj
Construction Management, Director Unitech Advisory Ltd
Dr. Deepak Bajaj is the Director - Projects & Investments of Unitech Advisors (India) Pvt. Ltd. He has a diverse technical, business and research background, with 28 years of combined experience in contracting, consulting and academia. Dr. Bajaj holds B. E. (MIT, India), Masters in Construction Management (UNSW, Australia) & PhD in Strategic Risk Management (UTS, Australia). He has worked in India and Australia and has also worked on assignments in China, France and Senegal. He is visiting Professor at SKEMA Business School, which has campuses across France, China, USA, where he undertakes workshops for Masters and supervision of PhD students.

Since 2006, he has built and led a team at Unitech Advisors, as Investment Advisor to Realty Funds. He is looking after the Property and Facility Management of Unitech commercial properties portfolio.

He has earlier served as the Course Director of Project Management and as Director of Construction Management programs at the University of Technology Sydney, Australia and has worked in the construction industry internationally with contractors on a variety of projects.

Dr. Bajaj has been honoured with 'AIB National Excellence Award' in 1999 (Construction Management) & 'FM Australia National Excellence Award' for Knowledge Achievement in 2003 (Risk Management). He is author of numerous research publications, guest editor & referee to numerous journals. He is the Fellow of RICS, member of South Asia board and member of Executive committee of education and RICS School of Built Environment, India.

Dr Deepak Bajaj is Fellow of RICS, the world body on real estate. He is on their South Asia Board and executive committee on RICS School of Built Environment since inception in 2012-15. He is Distinguished Adjunct Professor at RICS School of Built Environment since 2016.