Advisory Board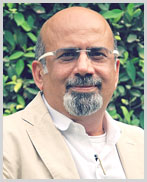 Mr. Sanjay Wadhwa
Architect
sanjay@swbiarchitects.com
T +91 124 4699999
M +91 9810069223
Designation: Principal Architect, SWBI Architects with partner / wife Beena Idnani Wadhwa
Qualifications: Bachelor of Architecture from School of Planning & Architecture New Delhi, 1984
Registration: Council of Architecture New Delhi.
Professional Affiliations: Fellow, The Indian Institute of Architects – IIA Member, India Green Building Council - IGBC
Sanjay Wadhwa, Principal and Design Head of SWBI is engaged in Architectural Practice since 1987. He has nearly 30 years' experience in planning and execution various types of projects that span across all market segments . SWBI under his leadership specializes in Workplace Design in greenfield IT Campus Projects as well as their Interiors.

The Team is well acquainted with the Best Industry Practices internationally in this domain.

Besides Office Buildings, SWBI has successfully completed a large number of Hospitality, Institutional & Residential projects.

Sustainability & Green Architecture has always been the backbone of all Designs created by SWBI. Sanjay & Beena's very first project in 1987 was an Award Winning Office Building for MP Urja Vikas Nigam at Bhopal, which was a curtain raiser in passive solar architecture.

Under the guidance of Beena Wadhwa, who is a LEED AP, most of Firm's work is towards achieving highest level of sustainability revolving around reduced carbon footprint as well as employees wellbeing.

Sanjay has handled projects overseas also including designing India Pavilion at Expo-2000, Germany.

He is passionate about creating Designs which are "Wellbeing @ Workplace" centric, and is a regular speaker at various Industry forums.

Awards & accolades include "Pinnacle Architect of the Year Award -2007".